This Christmas I'll have a child that's almost three. She soaks up every thing, asks questions, and figures things out in her little brain. I don't want her to think Christmas is about presents, trees, lights, and cookies. Those things are all fun but that's not what the season is about. I want her to know the true reason for Christmas – about the greatest gift ever.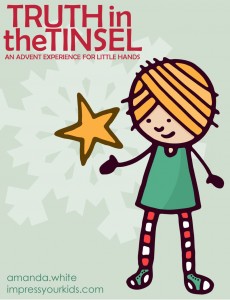 There are many ways to go about this, but this year we have decided to use Truth in the Tinsel: An Advent Experience for Little Hands. (Affiliate links used) Each day there is a clue, scripture, ornament to make, and discussion. The curriculum is written for preschool to early elementary aged kids. An added bonus, there are downloadable ornaments you can purchase if you aren't crafty or to help with those extra crazy days (we know December will be full of them).
This will be our first year using Truth in the Tinsel, but I think my daughter is going to love it. She's at the age where she is getting into crafts and loves creating things and learning. This will be perfect.
If you choose to use Truth in the Tinsel you'll want to print it off or at least look it over before December 1st actually arrives. This will give you time to look over the supply list and see what you have sitting around the house, what you need to keep (you are going to want to keep the lid from that empty oatmeal container), and what you need to buy. My crafting supplies are pretty limited since we are just getting into that stage with my daughter so I'm having to do some scrounging, a craft store run, and substituting for what I don't want to purchase. If you have a nice craft cabinet, you might not have to buy anything.
I love how a full supply list is given as well as a daily supply list. You can easily find what craft the pop-dots or buttons are used for and decide if you can substitute something else.
(Don't forget, if you don't want to do the crafts or worry about rounding up supplies you can use the downloadable ornaments!)
Have you used Truth in the Tinsel? What are you doing to keep the focus on Christ during December in your family?